Square shape watermelon growing mold (15cm size )
Square watermelon mold is made of Polycarbonate material which is hard enough to shape the watermelon into cube shape during growing .
You can also buy them on our amazon store :
https://www.amazon.com/dp/B09YXJ17MS?ref=myi_title_dp
Size : 15cm
Material :  Polycarbonate
How to use :
1. Choose the proper type watermelon (which mature weight over 6kg).
2. Put the molds on the baby watermelon when it is smaller than the molds and adjust to the proper position for better shaping in the next few days .
3. Observe the molds in the finally stage , when the watermelon fill all the corner of the molds,then it is the time to harvest , open the mold carefully ,knock the molds with pliers to release the watermelon easier .then you will get the best square shape watermelon .
4. The square molds can also used on pumpkins which has the similar property .
We not only supply you with the molds , but also teach you how to grow them successfully ,there are quite many experience worth to share .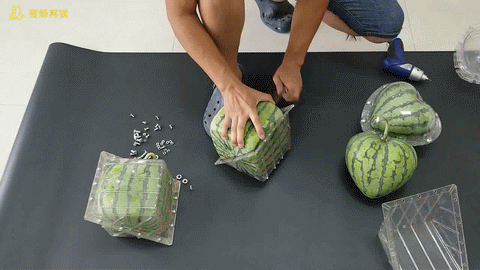 See the full video of how to get the square shaped watermelon out of the molds on below link :
Notice :
The package is not include the bolts and nuts ,the size is M5x12mm:
Shipping : 
The delivery time takes about 15-25 days after purchased (sometime a bit delay by some casues or some country such as Australia may takes 1 months arrives depends on the situation) if you require better and faster shipping such as DHL or Fedex .please contact seller. 
---
Share this Product